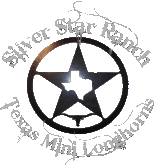 ITLA Registered Miniature Texas Longhorn Breeders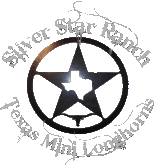 Grand Champion Kaufman Police Assoc Show 2016
Grand Champion Ark-La-Tex 2017
Grand Champion Heart O Texas 2017
Reserve Grand Champion HOT 2018
Reserve Grand Champion Ark La Tx 2018
Grand Champion Female Rodeo Austin 2019
Reserve Grand Champion Halter Ark La Tx 2019
Reserve Grand Champion Non Halter Ark La Tx 2019
Grand Champion Haltered CTTLA Show 2020
Reserve Grand Champion Non Halter CTTLA Show 2020
​
Award Winning Miniature Longhorn
Award Winning Miniature Longhorn
SS Mini Trips is a Registered Miniature Texas Longhorn with TLBAA. & ITLA. Our 3rd calf, 3rd heifer in a row in 2016, hence Trips.
Dam is Laer Dixie Kassandra. Sire Bogle Farms Micro Ebony.
She is a cutie. She is white with brown spots and legs. She is Halter trained and loves going to shows. She and Princess Patti have the same Dam and they both are great show sisters.
Calved 1/8/2016

SS Mini Domino is the 9th heifer for the 2016 year. She is a Registered Miniature Texas Longhorn with TLBAA and ITLA. She has the markings of her Dam except black instead of red coloring. And she has a beautiful Roan face. She is Halter trained.
Dam is Miss Rebecca 812. Sire Bogle Farms Micro Ebony.
Calved 5/28/2016

SS Mini Whiskey Lullaby
​
SS Mini Whiskey Lullaby is out of our large horned cow Confetty so we will be looking for the Horn.
Dam SL Win the Confetty. Sire SS L'il Shot of Whiskey
DOB 12/28/2019
SS Mini Shot of Brandy Miniature Texas Longhorn in Celina Texas
SS Mini Shot of Brandy is our First Calf out of SS L'il Shot of Whiskey. She is a Registered Miniature Longhorn with the TLBAA and ITLA. Pictured here with her first calf. Dam is SS Mini Kimber. Sire SS L'il Shot of Whiskey. Great example of how you can not predict calf color - Dam is Black and White & Sire is red, brown, white, with Brindle.. Calf solid Red.
We are expecting her to be one of our smallest cows. Halter trained
Calved 3/27/2019

BL Silver Star BitOHoney is very small for her age so we will continue to watch her. She is Registered with TLBAA. She is halter trained & is super calm and friendly.
Dam SCC Southern Spice, Sire Rising Star TH
Calved 10/6/2018

SS Mini Black Magic Woman
SS Mini BlackMagic Woman is a very small solid black calf out of a white bull with black spots and a parker brown cow with white roan face and white spots - so you never know what you're going to get! Her calves have been very colorful. She is a registered Miniature Texas Longhorn with TLBAA and ITLA. She is Halter Trained. Dam TFP Mito Sire SS Micro Bullet.
Calved 7/8/2018

TLBAA
& ITLA
Miniature Longhorn
Breeders

Home of the First Born Registered Miniature Longhorn Calf. Sire and Dam were both Registered Miniature Texas Longhorns by TLBAA. The calf - Summer Daze - was automatically registered as a Miniature by TLBAA.
​
We have sold one of our colorful steers to the Dallas Zoo for the Children's Zoo area. He was bottle fed for them and halter trained. They walk them around the zoo if its not crowded!
​
We sold 2 steers to Toyota Motor North America for their Corporate Retreat Center. They are aptly named Tundra and Tacoma. They are living in the lap of luxury and being spoiled by the ranch management staff.
​
We sold steers to Briggs Ranch Golf Course in San Antonio which is Best in State Golf Course and one of the top in the world. They live on one of the tees so the golfers can hand feed them from a bucket of cubes. They are the hit of the course!
​
We sold 2 steers to a Ranch in Texas that is for Veterans with PTSD. The animals have a calming effect on those that suffer from PTSD.
​
We were delighted that these facilities contacted us, visited our ranch and really liked our small miniature longhorns. And now they are being pampered and spoiled.

Cowboy rules
Pull your pants up. You look like an idiot.

Turn your cap right, your head ain't crooked.

Let's get this straight: It's called a 'gravel road'. I drive a pickup truck because I want to. No matter how slow you drive, you're gonna get dust on your Lexus. Drive it or get out of the way.

They are cattle. That's why they smell like cattle. They smell like money to us. Get over it. Don't like it? I-10, I-40, I-70 and I-80 go east and west, I-17, I-15, I-25 and

I-35 go north and south.

Pick one and go.
Grand Champion Non Halt ITLA Championship Show 2019
1st Place M4 Non Haltered ITLA Championship Show 2019
Reserve Grand Champion CTTLA Show 2020
Grand Champion NTLBA Show 2020