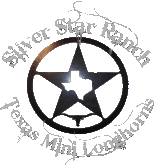 ITLA Registered Miniature Texas Longhorn Breeders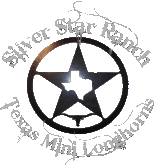 We are expecting many new Calves in 2022
So please call us as calves for sale can change very quickly.
​
We added many new Miniature breeders to our TLBAA family. We really enjoy working with the new breeders and others we have sold in the past who buy to compliment their existing herd.
The demand for Miniature Texas Longhorns is high and supply is limited. Please click on the Contact Page and Email us which of the sale mini longhorns catch your eye. Make sure you email us your name, address , and phone number.
OR you can call Dave at 972-978-6677
We look forward to working with current and new breeders.
Don't have a bull? We can help - visit our AI Semen sale page
We Currently do not have heifers for sale. Check back in 2022 as we expect many to come.

Sale Pen Mini Longhorn Cows




Great procucer. Halter trained. Brown on sides are Brindled




SS Mini Valentina

Calved 5/31/2017
Dam Emilie Sue 6/11 Sire SS Micro Chief Romeo
SS Mini Valentina (my favorite hot sauce) has great markings.
She is a Registered Miniature Texas Longhorn with the TLBAA and ITLA. She produces small - Her bull calf Whiskey on the Rocks aka "Rocky" was so small on his 2 year old birthday we made him a Herd Sire. She is currently bred.

Sale Pen Mini Longhorn Bulls / Steers
​
We usually have bulls and steers for sale but the inventory changes quickly. If you just want pets and do not want to breed, then Steers are ideal due to their calm disposition and easy going attitude. Steers are also sold for beef because they usually top out at 300 to 350 lbs of processed beef so you don't need to buy a 1200 lb angus and split with 3 other families. Steers are also ideal for Ropers as they stay small for a longer period of time than standard bulls so you can work with them longer.
​
A Mini Bull is 50% of your Herd so buy wisely. We recommend bulls that will mature out at 45" or less. 48" and less is the mini standard, but 48" bulls usually produce taller offspring. Remember if you buy a 2 or 3 year old bull that is 47-48" he still has growing to do and will probably exceed the mini standard when mature. No one can guarantee how tall an animal will be as they mature. If you do not want to own a bull consider AI Certified Miniature Longhorn Semen.
What ever your need, we have it covered.
from Miniature Texas Longhorn Bulls
All Cattle listed and sold from this website are private treaty sales and are between the buyer and seller. The websites Minilonghorn.com and Minilonghornsforsale.com are not responsible for any sales and purchase agreements between buyer and seller. The websites Minilonghorn.com and Minilonghornsforsale.com do not guarantee any animals listed.
TLBAA
& ITLA
Miniature
Longhorn Breeders


Cowboy rules
Pull your pants up. You look like an idiot.

Turn your cap right, your head ain't crooked.

Let's get this straight: It's called a 'gravel road'. I drive a pickup truck because I want to. No matter how slow you drive, you're gonna get dust on your Lexus. Drive it or get out of the way.

They are cattle. That's why they smell like cattle. They smell like money to us. Get over it. Don't like it? I-10, I-40, I-70 and I-80 go east and west, I-17, I-15, I-25 and

I-35 go north and south.

Pick one and go.
Home of the First Born Registered Miniature Longhorn Calf. Sire and Dam were both Registered Miniature Texas Longhorns by TLBAA. The calf - Summer Daze - was automatically registered as a Miniature by TLBAA.
​
We sold one of our colorful steers to the Dallas Zoo for the Children's Zoo area. He was bottle fed for them and halter trained. Right now he is living the good life being spoiled at the Zoo.
​
And, recently we sold 2 steers
to Toyota Motor North America for their Corporate Retreat Center. They are aptly named Tundra and Tacoma. They too
are living in the lap of luxury
and being spoiled by the ranch management staff.
We were delighted that both facilities contacted us, visited our ranch and really liked our small miniature longhorns.
Since we keep the cows until calves are weaned they are usually bred. So prices reflect sale of a bred cow. Cows are all pregnancy tested prior to pick up